How to submit written testimony: House & Senate
The House has just added a Written Testimony Online form that is at the top corner of the committee hearing's pop-out window. When you click on the link, you will be able to copy and paste your testimony. See example below and Frequently Answered Questions.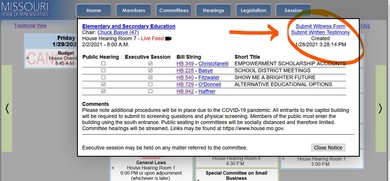 The Senate Witness System requires you to create a login and password. You can search a committee and it will show the bills being heard. You can indicate whether your testimony is in support, opposition or information only. You can then upload a Word document with your testimony and additional resources. View the instruction guide here.